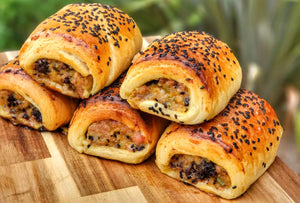 BLACK ET BLEU BANGER ROLLS
BLACK ET BLEU BANGER ROLLS recipe by @theirishegg

MAKES 12


Ingredients: 

2 packs chilled croissant dough (Jus Rol)

500g good-quality, sausagemeat

100g black pudding, skin removed, cut into 1cm chunks (optional)

1 onion grated

2 tsp fresh sage, finely chopped

6 tsp Norfolk Smoke Pit Honey Mustard rub

6 tsp black sesame seeds

Salt and pepper

1 egg, beaten

1 or 2 metal baking trays

Set up BBQ for indirect grilling 180 degrees.


Method:
Combine sausagemeat, onion, sage, rub and seasoning in a medium mixing bowl. Gently fold in the black pudding (if using) so the chunks are still visible. Add a good grinding of black pepper but not much salt as the sausagemeat and black pudding will have enough.
Unroll one pack of dough. The dough comes divided into three rectangles with a perforated diagonal line across the centre of each rectangle. Divide the mixture equally into six portions and lay one portion across the short edge of one of the rectangles. Repeat with other two rectangles.
Roll up the mixture in each rectangle of dough to form a large, sausage roll and cut in half. Don't worry about the diagonal perforations across the top. Place each 'Banger Roll' in a pre-lined baking tray. Repeat with the second pack of dough. You should have 12 'Banger Rolls' in total from two packs of dough.
Brush each roll with egg wash and sprinkle evenly with black sesame seeds.  Place the baking tray on the BBQ and cook for 22-26 mins (but check after 20) until nice and golden with an internal temp of 72°c.
Serve hot or cold. English mustard is a good accompaniment.

Bon Appetit !
---