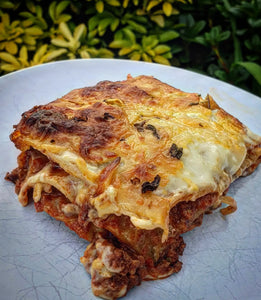 CACTUS KITCHEN MEXICAN LASAGNE
Recipe by @thenortherngrillers
EQUIPMENT
BBQ – Direct and offset cooking
Oven
Oven Proof Dish and Pan
Prep Time – 15 min
Cook Time – BBQ ( 3-3.5 hours) / Oven (1.5 hours)
INGREDIENTS
500g beef mince
1 onion diced
3 garlic cloves minced
400g tin of chopped tomatoes
3 tbsp Cactus Kitchen Rub
1 tbsp cumin
1 beef oxo cube
100ml water
1 tbsp tomato puree
Kidney beans (optional)
Salt
Cheese Sauce
50g butter
50g flour
2 cups milk (around 500ml?)
75g grated mild cheddar + extra for topping
25g grated mozzarella + extra for topping
1 tbsp hot sauce (we used Bullseye Chipotle sauce)
JD's Hot Honey Jalapeño flakes
Salt
Method
 1. Heat oil in a pan and fry off the onion and garlic
2.
Add mince and brown this off, breaking up any lumps
3.
Add the tin of tomatoes, Cactus Kitchen,
cumin ,
beef oxo cube, tomato puree
, kidney beans (if using) and the water
and mix well
4.
If cooking on BBQ
,
move
pan over to offset cooking, add some smoker chips (cherry works well) at 120-140c for around 2 hours uncovered
If cooking on the hob, lower the pan to a simmer and cook with the lid on for 30 minutes then allow to cool
5. To make the cheese sauce melt the butter in a pan. When it has melted, take off the heat and add the flour and mix until it has all combined. Return the pan to the heat and add the milk. Whisk until you can feel the sauce thickening.
6.
Add your cheese to the sauce and mix well until it has melted. If the sauce is too thick add more milk. If you would like it thicker
add
some more cheese
7.
Add the hot sauce and a pinch of salt
, mix
8.
If cooking on BBQ, crank the heat up to around 160-180c. If using oven, preheat oven to 180c
9.
In a
n
oven proof dish, place a layer of lasagne sheets, followed by thin layer of mince and then another layer of lasagne sheets.
10.
Then top with thin layer cheese sauce, meat,
lasagne
sheet again. Repeat this for as many layers as you
can ,
you can normally do about 3 layers. Finish with a layer of cheese on top.
11.
Make sure you spread cheese to the edges and top with the extra cheddar and mozzarella and jalapeno flakes
12.
If BBQing, place the dish offset, add some more smoker chips and cook for around 40 minutes. If using the oven, cook for 30-40 minutes until the pasta is cooked through and the cheese has
turned golden
13.
To test if pasta is cooked
through ,
test with a sharp knife in the middle of the lasagne, all the way to the bottom of the dish and see if there is any resistance/ hardness. If so, give it a bit longer on the BBQ / Oven
---