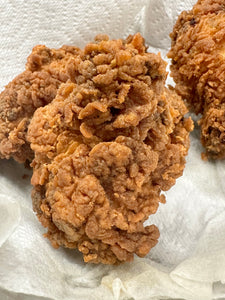 FRIED CHICKEN WINGS
Ingredients
1 box of wings (I used Tesco)

1 Tbs Tater Tosser
1 Tsp Good Ol' Rub
248ml Buttermilk 
Full fat milk
Franks Hot Sauce
Plain Flour
Corn Flour
Baking powder
Method:
Cut the wings into drums and flats
Season with Tater Tosser and Good Ol' Rub
Empty the buttermilk into the wings and use the container to measure half the amount of full fat milk - bosh that in too.
Splash of Franks Hot sauce and mix it well.
Leave in the fridge for 6 hours
Make the coating by mixing a ratio of 2:1 plain flour to cornflour . I used 1/2 cup flour and 1/4 cup corn flour and added 2 teaspoons of baking powder to this mix (it should be enough to do the whole box)
Get your oil heated up to 180c do not go over this temperature. Pop the wings in and let them cook at around 165-175c for 5/6 minutes. Aiming for internal meat temps of 80-90c
Fry in small batches, drain on a wire rack with some kitchen towel underneath / get them in a bowl and sauce them babies right up!
---