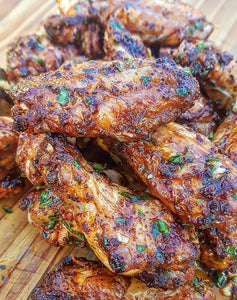 GOOD OL' GARLIC BUTTER WINGS
Recipe by @thenortherngrillers
Serves 2 as a main meal
Cooking Method  
BBQ Vortex / Hot and Fast Indirect Heat
Prep Time – 15 min
Cook Time – 30 min
Ingredients:
1kg Chicken Wings
Norfolk Smoke Pit Good Ol Rub
Oil Spray
100g Butter
4 Garlic Cloves ( minced)
3 tbsp fresh parsley (finely chopped)
2 tbsp  fresh coriander(finely chopped)
Pinch of flaky sea salt
Splash of lemon juice
Method
1.
Split wings into drums and flats (can leave as whole wings if you like)
2.
Coat wings with a light coating of Good
Ol
Rub
(go as little or heavy as you like it's not got huge levels of heat so don't panic)
3.
Set BBQ up for hot and fast indirect cooking. We used a vortex set
up
but you can cook normal offset, making sure to get the temperature above 200c.
4.
Place wings on the grill, and spray each wing with oil, this will ensure extra crispy
skin.
5.
Lid on and let them cook for around 30 minutes.
Halfway
through, sp
ray
with oil again.
6.
While the wings are cooking mix the butter, garlic, parsley
, coriander, lemon juice and salt together, mixing to soften the mixture.
7.
When the wings have reached about 90c internal temp, remove from grill and place in a bowl.
8.
Add your garlic butter
( I
did around 3 table spoons) and toss the wings until they are all coated and the butter has melted.
---