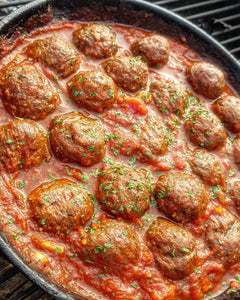 GOOD OL' SMOKED MEATBALLS
Recipe by @thenortherngrillers
Serves 6
Cooking method
BBQ Indirect Low & Slow (110c- 130c) & Direct
Special Equipment needed – Smoker chips / Skillet pan
Prep Time – 25 min
Cook Time – 1 hour
Ingredients
Pasta
Garlic Bread
Meatballs
750g Beef and Pork Mince
2 tbsp breadcrumbs
2 tbsp Norfolk Smoke Pit Good Ol Rub
1 tbsp dried basil
1 tbsp dried parsley
1tbsp garlic granules
1 tsp smoked paprika
Sauce
2 x 400g tins chopped tomato
2 tbsp Norfolk Smoke Pit Good Ol Rub
4 garlic cloves
1 tbsp dried basil
1 tbsp dried parsley
1 beef oxo cube
Grated Mozzeralla
Method
1.
Mix all the meatballs ingredients together and
mix together
really
really
well.
2.
Next, roll the mince mixture into 22 x 35g balls. Each time you take the mince for the ball, make sure if give it an extra last "
smush
" before rolling the
ball ,
it really helps the texture once cooked.
3.
Set aside in the fridge until ready to cook.
4.
Set the BBQ up for indirect
cooking. Aiming for a temperature between 110c – 130c
5.
Place meatballs
offset ,
add smoker chips / wood and put lid on.
6.
Smoke for around 35 minutes, until internal temp is around 62c
7.
Remove from BBQ, cover and set aside.
8. Cook your pasta - however much is required for your family.
9. Place
skillet
pan directly over coals, add some oil and fry off the garlic.
10. Add the tins of tomato, Good
Ol
Rub, dried herbs and beef oxo cube, mixing well.
11. Move skillet pan back over to offset cooking, with vents open to increase
temp ,
add some more smoker chips (if you want a smokier sauce) and cook for around 10 minutes.
12.
Add the meatballs back into the skillet
, coat with the sauce
and top with grated mozzarella and allow to cook until cheese is melted.
13
.
Serve with pasta and garlic bread and enjoy!
---