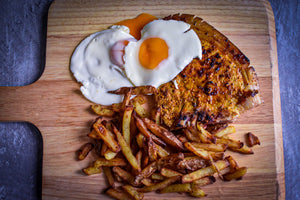 HONEY MUSTARD PORK CHOP
HONEY MUSTARD PORK CHOP recipe by @scotts_foods

Ingredients:

2 x free range pork chops
4 x free range eggs
3 x half decent sized russet potato
Norfolk Smoke Pit Honey Mustard seasoning
Turmeric
Vegetable oil
Salt and pepper

Method:

I used some beautiful old spot Gloucester pork chops. Remove from packaging and dab dry with paper towel.

Liberally apply honey mustard rub and leave to marinate. I left overnight in the fridge for maximum flavours.

Pre heat barbecue, I used my Kamado Luna set up with the multi zone for direct and indirect.

Pop a pan on the hob add water and a pinch of salt and bring to a rolling boil.

Slice up potatoes to desired thickness and rinse in cold water to remove excess starch.

Drain starchy water and gently add the chips to the boiling water for 5-7 minutes.

Remove and drain, allow to dry.

Drizzle vegetable oil into a bowl and add a tbsp of turmeric.

Toss the dried chips in the mixture to evenly coat all over.

Add pork to barbecue on the indirect side of the grill and allow to cook until desired internal temperature is achieved.

Add chips to air frier at 180c for 8 minutes.

Remove pork from heat once ready and allow to rest for 5 mins. Open up all vents on the Kamado to get it ready to sear.

Toss chips around and return to air frier for 4-8 minutes at 200c until desired crispness is achieved.

Sear pork on direct side of grill to finish. Remove and rest.

In a cast iron pan, fry eggs till you're happy with them, I prefer sunny side up. Season and serve.
Enjoy!
---