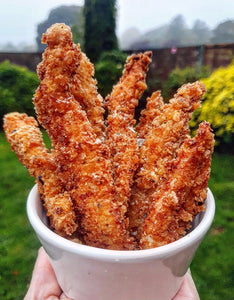 PANKO CHICKEN FRIES
PANKO CHICKEN FRIES
recipe by @thenortherngrillers
Side dish / starter / light bite
Time to prep – 10 minutes
Cooking time – 5 minutes
1 chicken breast makes around 8-10 fries.  If doubling up on recipe just add additional flour/panko crumbs as you go, there will be enough egg/milk mixture
Ingredients
Chicken Breast
2 eggs
50 ml milk
Plain Flour for dusting
Panko Crumbs
Norfolk Smoke Pit rub of your choice
Frying oil (vegetable or sunflower)
Sea salt
Method
1.
Slice chicken breast into thin
strips, about
 1
cm wide
and thickness
2.
Set up three bowls – one w
ith flour, one with milk and eggs whisked together and one with the panko breadcrumbs
3.
Add a good amount of your chosen rub to each bowl and mix to combine.
4.
Take a chicken piece and coat firstly in the flour mixture (shake off excess) and then in the egg mixture, before rolling in the breadcrumbs to coat it fully.
5.
Repeat process with all the chicken pieces.
6.
Heat up oil in a deep sided frying pan
( around
1 inch deep) or deep fat fryer to 170-180c
7.
When up to temperature, gently lower each of the chicken fries into the oil and cook until golden brown, around 5 minutes.
If cooking a lot, cook in batches
so as to
not kill the temperature of the oil.
8.
Check with
Thermapen
that internal temperature is at least 75c
9.
Finish off with a sprinkle of sea salt and your chosen dips/sauces.
---