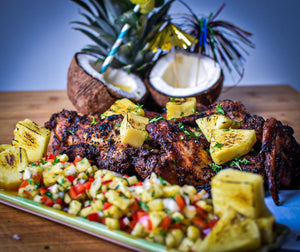 RAGGAMUFFIN JERK WINGS WITH PINEAPPLE SALSA
Recipe by @scotts_foods which he did for the Alton's BBQ World masked griller competition. When it comes to the quantity of rub to meat ratio me and Scott have started this scale.
Per Kg of wings
1  - teaspoon -mild
2 - getting hot
3 - yeah that's proper hot
4 - this is silly now
5 - somebody please stop this
Let us know on Instagram how many teaspoons you go for .. and if you break the scale and get to 6 .. give it a new name and we will add it on.

Ingredients:
1kg of Chicken Wings 
For the salsa::

1 Pineapple

1 Red Pepper
1 Red Onion
Pickled jalapeños to taste
2 Limes
Coriander

Method:
Cut half pineapple into chunks and char on the grill and set aside. Dice the remaining pineapple and pepper, finely chop red onion, jalapeño and coriander.

Add all ingredients into a bowl, squeeze the lime in and give it a good mix.
Place wings in to a large mixing bowl (I used 1kg of wings for this recipe and went for 4-5 teaspoons of rub) apply a light coating of oil to help the rub stick better.
Toss in bowl and re apply as necessary till fully coated. Cover and place in fridge for 2 hours minimum.
Cooked over lump wood on the Weber compact 57 grill with a vortex dome turning every 15 mins till past 75c. Checked with instant read probe. Took roughly 50 minutes 

Served up with the pineapple salsa / charred pineapple and a cocktail in a coconut for Alton's BBQ World Masked Griller competition style shits and giggles… you don't have to do this. But impressive if you do! 
---