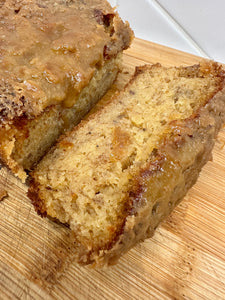 Traeger Sticky Toffee Banana Cake
Ingredients
For the cake
140g self raising flour
140g castor sugar
140g butter
2 large eggs
3 over ripe bananas
1tsp baking powder
For the sauce
200g soft light brown sugar
60g butter
120ml double cream
( there will be lots of extra sauce but you can use this for serving with ice cream later)
Heat Traeger to 180c and line a loaf tin
Cream butter and sugar until light and fluffy
Add 1 tablespoon of the flour and 1 egg, whisk well and then add the other egg
Fold in the remaining flour, baking powder and mashed bananas
Pour the mixture into the tin and bake for 40 minutes . Could take a little longer, you want a clean skewer and a nice colour on the cake too.
Meanwhile make the caramel sauce by combining ingredients into a pan and simmering on a low heat whisking for 5 minutes. Once the sauce thickens slightly you can remove from the heat, it will continue to thicken off the heat.
Poke some holes into the loaf and pour around 3/4 tablespoons of the caramel on top (I didn't measure to be honest I just covered the top of the cake in saucy goodness!
Place back into the Traeger for 10 minutes to really bubble and crisp up the top
Serve with ice cream and the remaining sauce
ENJOY!
---